HTWWLife

"Converting Experiences to Transformations: Do you also hum tunes in a thermal pool?"
László has been working in the field of travel, hospitality, leisure and health for 25+ years. He is an experience engineer, strategist, mentor and trainer, and wellbeing intelligence expert. He has gained experiences in private as well as in public sector environments. László is one of the very few people in the world who has been active in every aspect and domain of the health, wellbeing and travel spectrum, i.e. medical and wellness tourism, wellbeing and hospitality, spas and leisure experiences.
He is an economist and art & design manager, and holds master degrees, a PhD, and is a Certified Management Consultant. László has been lecturing and running tailor-made trainings and masterclasses in over 40 countries. He has been actively involved both in industry as well as academic arenas and authored numerous industry reports, specialist books and publications. László is a hot spring and wellness enthusiast and holds a Diploma in Forest Bathing! He is Faculty Member of the Medical Wellness Association and Member of the FEMTEC's Commission of Tourism & Health, Member of the Global Experts Network of IGCAT, and Research Associate at the Wellness Tourism Association.
European Cooperation Manager , Thermauvergne Association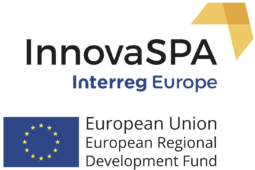 "InnovaSPA project:
opportunities for better thermal spa public policies, exchanges of good practices on innovative thermal offers and results of the cooperation"
Marion is in charge of the European cooperation at Thermauvergne and the Route des Villes d'Eaux du Massif Central associations. Within the framework of her missions, she coordinates cooperation projects on a European scale on issues related to thermalism in Europe, culture, heritage, tourism, wellness and health.
She represents the 17 spa towns of the Massif Central (France) within the European Historic Thermal Towns Association (EHTTA), of which she is the financial manager.
Marion is involved as partner in the European project HEALPS 2: Healing Power of the Alps, co-financed by the Interreg Alpine Space programme, which aims to increase skills of tourist destinations for the launch on the market of health tourism packages based on Alpine natural resources.
For almost 5 years, she has been coordinating the European project InnovaSPA, co-financed by the Interreg Europe programme, whose objective is to support the exchange of experiences between 8 thermal regions in Europe on the issues of health innovation linked to spa therapy.
Finally, Marion also represents the spa towns of Auvergne territory (France) within the European Spas Association (ESPA).
Group Medical Director, Ensana Health Spa Resorts Group
Boris Banovsky, M.D. is a senior healthcare professional, graduated from Medical School of Komensky University in Bratislava, Slovakia, with 7 years of active medical practice, specialized in General/Trauma Surgery and with 17 years of extensive experience and knowledge in the medical devices' businesses, both locally and internationally. He also has a 2- years experience in leadership positions in the state health sector. For the last 3 years he serves in a role of Medical Director at Health Spa Piešťany, Slovakia (member of the Ensana Health Spa Resorts Group) and also as a Group Medical Director for the Ensana Health Spa Resorts Group. He speaks fluently 4 languages. In his free time he actively plays sports and is a fan of Formula 1 besides of '80s – '90 music and fine arts.
EHTTA Executive Director

MODERATOR
Simone studied business and tourism at the Cologne Business School (Cologne, Germany), graduating in 2002. With a specialisation in destination marketing and with a special interest in eco-tourism, she worked for tour operators and companies in Germany and Northern Thailand, before she started working as marketing manager in the German town of Wiesbaden, known as the "world spa city of the 19th century".
Between 2008 and 2020 Simone was the Head of Marketing and Deputy Managing Director with Wiesbaden Congress & Marketing GmbH. This is where she discovered her enthusiasm for the history of spa towns, their thermal heritage and marketing a destination especially in cultural and health tourism.
After engaging and participating in the development of the European Historic Thermal Towns Association from a members' perspective for almost a decade, Simone started to work as Executive Director of EHTTA in 2020.